Business dialogue between Armenia and Russia: new opportunities for the growth of trade turnover and investment
On 25 August, Yerevan hosted a business breakfast of representatives of the business communities of Armenia and Russia with the participation of the Minister of Economy of the Republic of Armenia Vahan Kerobyan and the Minister of Economic Development of the Russian Federation Maxim Reshetnikov.

The ministers told the participants about the macroeconomic situation of the two countries, presented up-to-date statistical data and shared their predictions regarding joint initiatives.

The trade turnover between Armenia and Russia for seven months of 2023 amounted to $3.7 billion, which is 70% more than the one for the same period in 2022. RA Minister of Economy Vahan Kerobyan stated this.

"Over the first seven months, the trade turnover is $3.7 billion, $2 billion is export from Armenia, $1.7 billion is export from Russia. This is 70% more than last year, and last year we had a double turnover in relation to 2021," the minister stated.

In his turn, Minister of Economic Development of the Russian Federation Maxim Reshetnikov highlighted that the strategic tasks in bilateral relations between Russia and Armenia remain mutual investments, new projects, cooperation, increase of the share of added value of products that are created in Armenia and products that Russia needs now.

"The reconfiguration of the Russian economy has opened up great opportunities that Armenia is effectively using. It is very important to give maximum freedom to the business, so that the business itself can carry out this reconfiguration. The bet on this was made in 2022, and this is confirmed. It is very joyful that all this restructuring opens up opportunities for our friends and neighbors. It is important that the Armenian economy really takes advantage of all these opportunities, and our colleagues here, pursuing their economic policy, are well aware of this," Maxim Reshetnikov stated.

Grant Babasyan, CEO and co-founder of Impulse Management Company, Honorary President of the National Union of the Hospitality Industry, proposed to hold a hospitality industry forum in order to develop the tourism sector of the economies of the two countries.

"The tourism sector of Armenia and Russia is developing at a high pace, which opens up many opportunities for investment. I propose to hold a forum in the field of the hospitality industry as part of the development of Russian-Armenian relations, where it would be possible to show existing tourism projects, discuss investment opportunities and create a platform for dialogue and exchange of views for nations, businesses and manufacturers of products of both countries," he stated.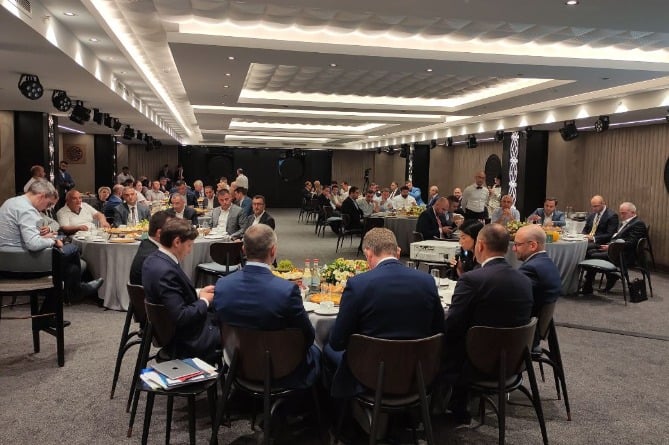 Photo source: newsarmenia.am